Body:
https://www.theguardian.com/culture/2023/jan/08/theres-too-much-money-in...
Local Australian rules football clubs are paying large amounts of money to secure top players. Some say it's corrupting the spirit of community sport by Nino Bucci
Joel Dwyer thought he was lost. It was his first Australian rules football game for a regional Victorian team that was paying him and two mates $700 each a week, and he'd never been to his new home ground.
As he drove through Victoria's flat and desolate north, he saw no sign of a town that could support a football team.
"We drove past two clapped-out buildings and down a gravel road and then you just see the light towers at the footy oval, and that's the first thing you see," he says.
It was 2016 and the town, which in that year's census had recorded a population of fewer than 100 people, needed players.
Through a convoluted series of events, including a Contiki tour someone involved with the club did with one of Dwyer's mates two years earlier, the coach came upon Dwyer's mobile number.
Dwyer says someone from the team called him up and asked if he would be interested in making the drive north from Melbourne every week, if the price was right? And did he know anyone else who could play?
Such is the often strange world of semi-professional Australian rules footballers, some of whom are said to be paid more than $60,000 for a 20-week season – almost double what the best players in the AFLW competition make (though the recent signing of a new enterprise bargaining agreement means this pay will be doubled next season).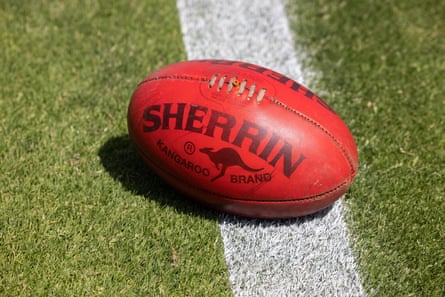 Photograph: Ellen Smith/The Guardian
Despite efforts by the AFL to curb the influence of money on the lower tiers of football, including by introducing salary cap and points systems designed to prevent clubs from loading up with highly paid elite talent, some say it continues to have a corrosive effect on the game, even when no rules are being broken.
Players who are in it for the money will sometimes spend little time around the town or community after a game, leaving the club and its supporters disillusioned.
A club can get in too deep while spending to chase a premiership, thinking that success will help balance the books, but then crash when the cash runs out.
There is something harder to define too, about how paying for players undermines the wholesomeness of community sport.
Brendan Curry, a veteran football administrator of more than four decades who is currently involved with Barwon Heads, says the controls put in place to quell the influence of money on community football are too easily circumvented.
"Players have been jumping clubs for money for as long as the game's been going," he says.
"What I try and do is keep [teams] together and be able to tell them not to take extra, don't be greedy, and then at the end of the year you'll play in a premiership, and you love to see it when it comes off.
"But with the cost of living and mortgages – and they're young men – it's easy to go to the highest bidder."
Craig Hardingham, the coach at Western Eagles, a club formed from the merger of Pirron Yallock and Irrewillipe that plays in Victoria's west, says "there's too much money in local footy".
The Eagles have only won one game in three seasons, making recruitment even harder – especially when Hardingham can't compete with the match payments offered by rivals.
He isn't offering more than $300 a game, but has heard clubs in the same league are paying as much as $1,000.
Dwyer has played at nine clubs since he left home in south-west Victoria to attend university in 2008. All but one of them has paid him amounts ranging from $80 to $900 a game.
"It is genuinely a second income for those 18 or so weeks that you're playing," Dwyer, a teacher, says.
He has played for clubs in tiny towns that he came to love, and at suburban clubs.
There has been a premiership and dire seasons, clubs that struggled to fill sides, and time spent playing in the same team as former AFL Brownlow medallists.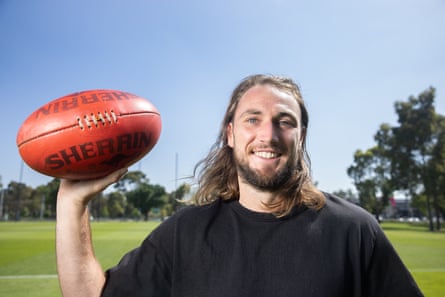 'It's very rare they tell you they're going to be awful,' says Joel Dwyer. Photograph: Ellen Smith/The Guardian
He has played for clubs that recruited in more traditional ways and others that offered incentives: one footy club even found him his first job in teaching when he made it a condition of switching clubs.
Dwyer first started getting paid while playing for a club in central Victoria.
"One night they sat us down at the pub and said we've got a player payment system, and it's $25 a game. If you want more, just ask.
"I went up and asked for $80, because there was a bloke I knew who was worse than me who got $80 a game, and they gave it to me."
Dwyer had a strong season, and the next year he was approached by someone at the club.
"This bloke came up, really nice, and says 'We're going to have a chat. I'll say a number, then you say a number'. I took the same principle as last time: I knew a bloke who was worse than me who got paid more than $200 the year before, so I asked for $220.
"He agreed straight away, so obviously I could have asked for more. But I thought all my Christmases had come at once."
Dwyer became a shrewd negotiator, and more wary of the promises made by clubs about their prospects for the year ahead.
"It's very rare they tell you they're going to be awful," he says. "They always say they're on the up, we've got this bloke and that bloke.
"But you eventually learn to wait and see."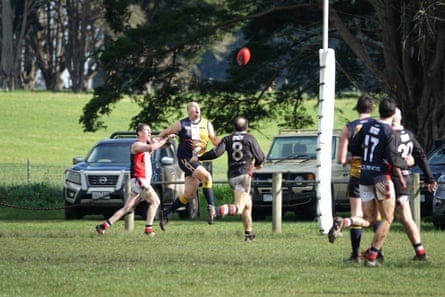 He is at pains to point out that at most of these clubs he was merely a good average player – on only a few occasions was he among the team's top earners, and there were multiple clubs he played for where people were earning more than double he was.
But he is at peace with the idea that he was a footy mercenary, and felt no ill ease about this, as he tried to do the best he could for each club – on and off-field.
While being a former AFL-listed player guarantees a strong pay packet in the lower leagues, the majority of those paid hundreds of dollars a game are nowhere near that level.
Where the money comes from depends on the club, Curry and Hardingham say.
Some have a stream of pokies revenue. Others, in the country, are bankrolled by wealthy farmers, some of whom donate cattle, grain or other goods to the club. Many more have a good, even spread of sponsors and events that guarantees sustainability.
There is talk of "whale" sponsors: one particularly wealthy supporter, who wants to guarantee the club success, loading hundreds of thousands of dollars into the venture.
Hardingham – a hulking ruckman who knocked a point post out of the ground during a game this year – says he fears for the survival of clubs, particularly in the country, if these streams of money aren't reined in.
And when those clubs die, communities die with them.
"The footy means locals have somewhere to go on a Saturday afternoon, and socialise with other people," he says.
"You'd love to be winning every week, but I think Covid taught us a lot of things about how important Saturday afternoons are for the community."