Body:
VFL Tigers eye a spot in the Grand Final
From the Richmond FC website - Brenton Mann, richmondfc.com.au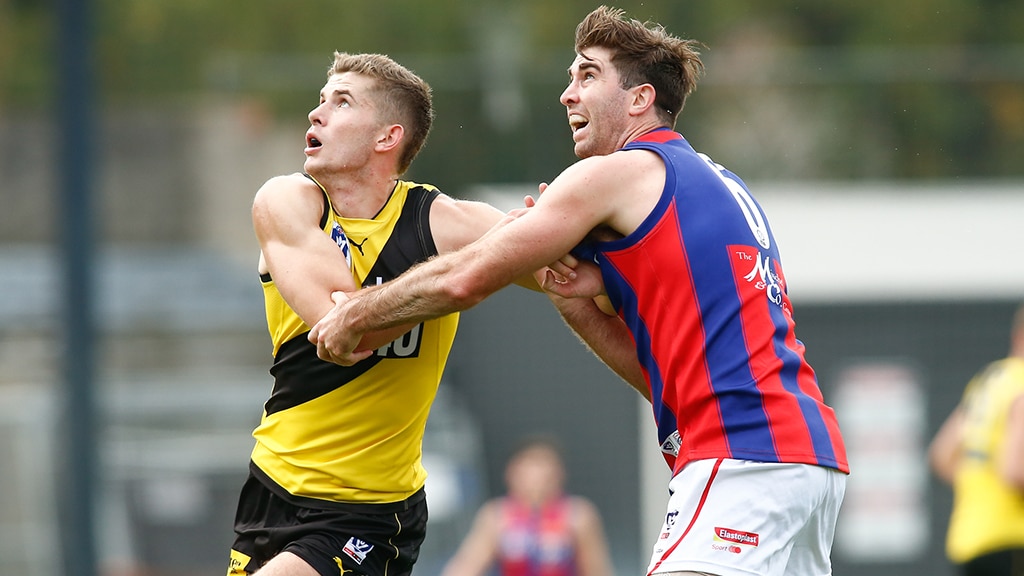 Richmond VFL will fight for a spot in the Grand Final on Saturday, when they square off against Port Melbourne in a preliminary final at Adcon Stadium.
The Tigers, fresh from a week off, have the task of knocking off a rampaging Port Melbourne at the Borough's home fortress. 
SUPERSTORE Gear up for Finals with the Tigerland Superstore and show your support this September
It's been a long time between drinks for the two sides that met all the way back in Round 2, with the Tigers prevailing by 43 points.
Given it will be over five months between outings, not much can be taken out of their most recent encounter. But the Borough have some shining traits that Richmond will have to curtail to secure the win.
Richmond VFL coach and recently awarded VFL Coach of the Year, Craig McRae, is aware the result will hinge on who handles the heat at the coalface.
"We haven't played them for a while…Round 2, so it's hard to get a read on how they play. We'll sit down and have a look at that on the tape and see what we'll see but their contest and pressure has been something that's been a real feature", McRae said.
"You look at the last two or three weeks stats-wise and those things stood out."
McRae was quick to acknowledge the honour he recieved at the VFL Best and Fairest night, alongside Hugh Beasley and defensive partner-in-crime Dan Coffield, who were granted back-half posts in the VFL Team of the Year.
"It's great reward for those guys and I mentioned at training that individual awards are only achieved through great team success", McRae said.
"The team performs well and the individuals get better and this case 'Beaser', myself and 'Coff' are the ones recognised. But we're not naïve to think that we're not in those positions without the contributions that have taken place throughout the year.
"While we're grateful, we appreciate all of the other stuff that goes with it."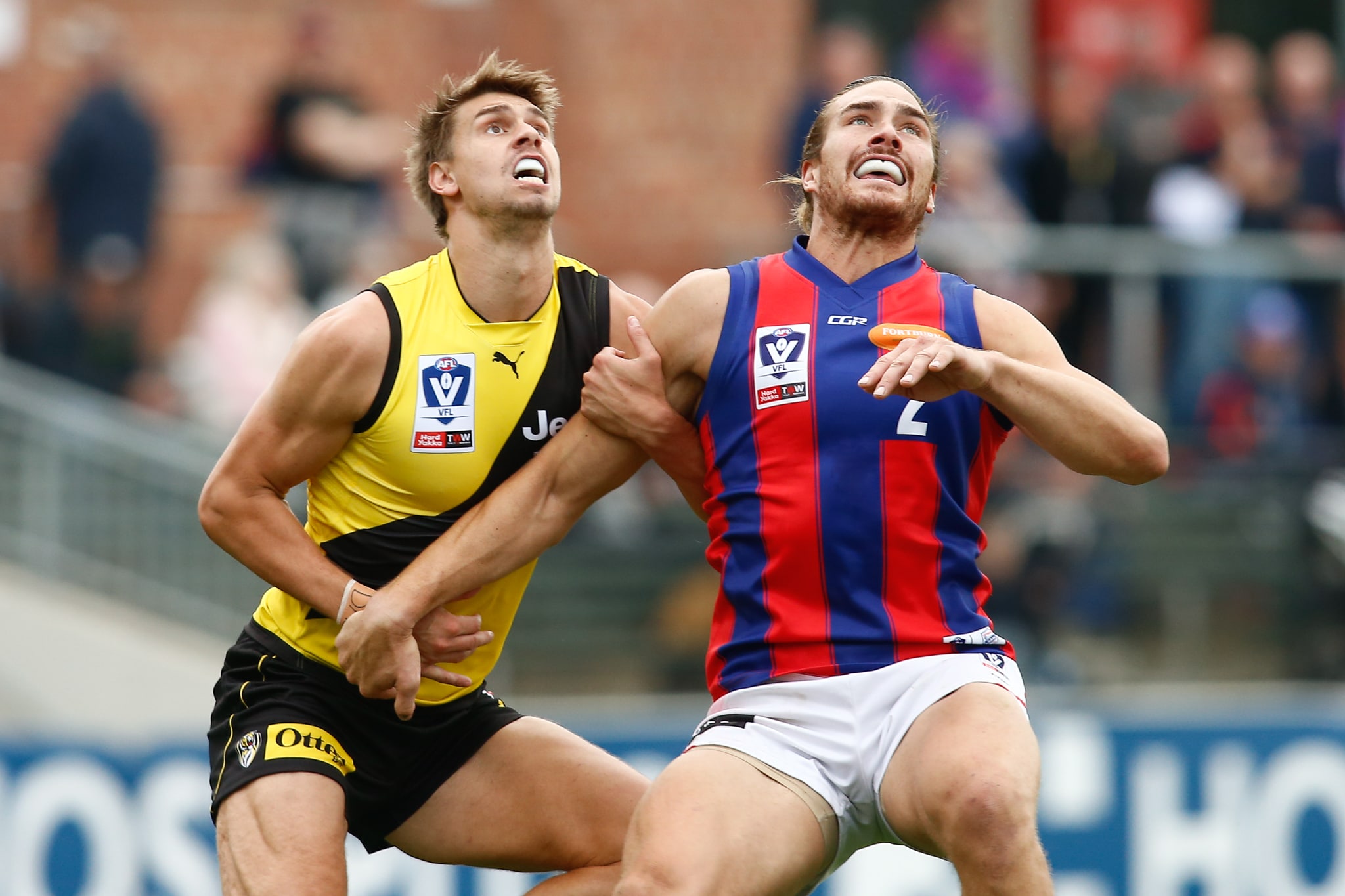 The potential for a one-on-one duel between 2019 'Frosty' Miller medallist for the VFL's leading goalkicker, Port Melbourne's Jordan Lisle, and VFL Team of the Year full-back, Hugh Beasley, adds a vail of intrigue to this cut-throat final.
Richmond's mantra, however, is not centred around individual matchups, rather, a collective pursuit to curtail the opposition's strengths and be hard to play against.
However, McRae will no doubt have a contingency plan for if the Port Melbourne spearhead catches fire.
"We'll have some options but he's certainly a player that we'll have to watch—he's a quality player at this level", McRae said.
On the road to the preliminary final, Richmond pulled off one of the greatest comebacks in VFL history, clawing their way back from a 40-point deficit at three-quarter time to defeat the Bombers by two points in the qualifying final.
"Upon reflection, our balance around the contest was reasonably poor, so we're looking at that and ways we can improve. But ultimately, the greatest lesson we took out of the game was the belief we have in this group", McRae said.
"It's been a special group all year and we've found ways to win in all different circumstances and all different venues and different conditions.
"So, we go into (Saturday's) game and our opposition can't take our belief away from us...we've built that over a number of weeks."
Toby Nankervis was the hero in Richmond's come-from-behind win. However, with Nankervis returning to AFL duties, the rucking responsibility will likely be passed to able lieutenants, Callum Coleman-Jones, Mabior Chol and possibly Noah Balta.
This will not be uncharted waters for the Tigers, with all three having handled the workload during the season.
"We've juggled that ruck position all year with (Ivan) Soldo, 'CJ' (who has) had to carry the load for a major part of the year and then 'Marbs' did it for little stints as well," McRae said.
"We've got good flexibility in our team and 'Nank' goes out but he only played 60 per cent of the (qualifying final) game. It was a pretty special 60 per cent, particularly in the last quarter. Even 'Garthy' (Ryan Garthwaite) played some minutes in the ruck...so I think we've got good scope in that part of the game."
Chol, Balta and Coleman-Jones have all had stints at AFL level this season and have a shown growth in their development.
Twenty-year-old Coleman-Jones, 200cm, has averaged 15.4 disposals, five marks, four tackles and 17 hit-outs across 17 games this year, as well as kicking 10 goals.
McRae is bullish about what his young ruckman is shaping into.
"He's been a real standout in terms of development," McRae said.
"The two-year growth for him has been profound. We had a really targeted program for him last year that he grew within, and this year he looks like he's gone to a whole new level.
"I think he's a really exciting prospect. His ground level stuff and his contest-to-contest stuff is as good as any I've seen at this level for a young, developing ruckman and we've got high hopes for him."
Saturday's preliminary final will be the Tigers second in three years. Richmond fell agonisingly short of premiership glory against the Borough in 2017.
McRae points to the differences he's felt between the two finals series.
"It's all a new experience for us and every campaign's different, the build-up's different…but I think this group right from the start of the year looked hungry", McRae said.
"In 2017 we got a bit of a run-on late and had a lot of experience that drove that and we had the whole footy club that was abuzz amongst that.
"This group, right from the practice games, have this hunger and want to win and an ability to connect really well, so those things in particular are a main reason why we're in the position we are at the moment."
On Saturday, as its been all year, this group will be hungry, connected and will look 'Richmond'.
Tickets to the game are available here. Those unable to make it to the clash can watch it live on Channel 7 from 2.00pm.
Tiger fans can also follow live updates from Adcon Stadium via the Richmond VFL Instagram and Twitter accounts.
Richmond's preliminary final team will be announced at 7pm tonight, updated in this article.
Richmond VFL Preliminary Final
1st Preliminary Final
Richmond vs Port Melbourne
Saturday, September 14
2.10pm
Adcon Stadium