VFL: 2016 winner Michael Gibbons among the fancies for 2018 VFL Liston Trophy
Paul Amy, Leader - September 5, 2018 10:00am
SAM Collins had a remarkable season for Werribee.
He marked everything bar car tyres. Will he now grab the VFL's JJ Liston Trophy, to be counted at Crown Palladium on Monday night?
The way the Tigers see it, it would be appropriate recognition for one of the most dominant years seen from a VFL player.
MORE VFL
VFL FOTHERGILL-ROUND-MITCHELL MEDAL PREVIEW
Twenty years ago people raved about Werribee left-footer Michael Frost's season. The former Bulldog duly won the Liston. The Bees made the grand final that year, only to be upset by Springvale.
Werribee won seven games this year and missed the finals, and there will be a query on Collins' ability to pull votes in the 11 matches lost.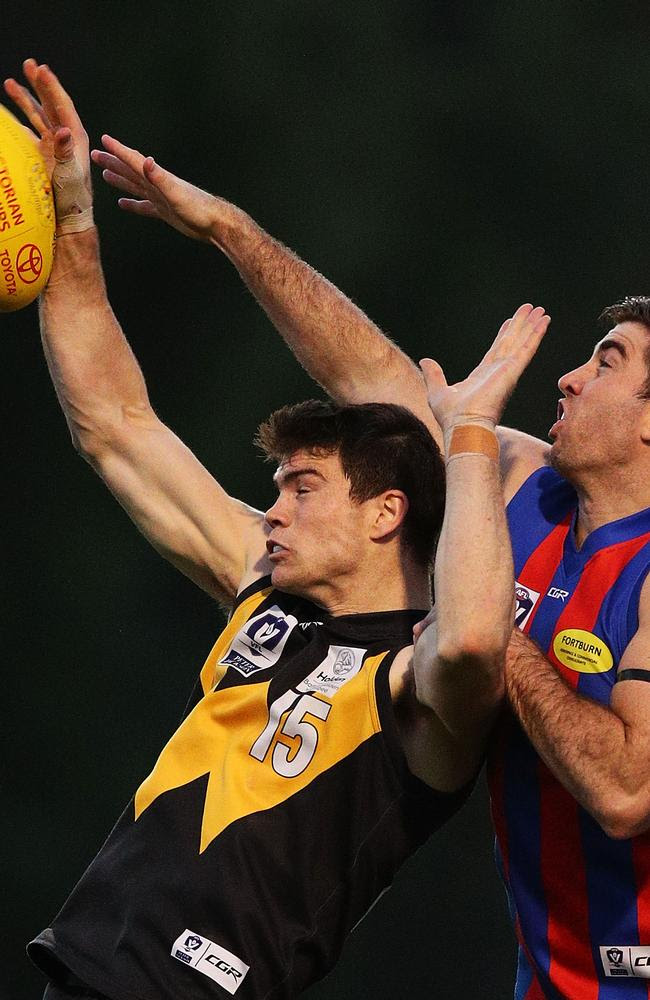 Tiger Sam Collins in an aerial contest with Jordan Lisle of Port Melbourne.
But as Bees football manager Stu Balloch pointed out, as a backman the former Fremantle Docker Collins was seeing a lot of play in the defeats. And with his marking he was catching eyes as well as the ball.
"He's one of the standout players of the competition, absolutely no doubt,'' Balloch said.
"The wins and losses, typically you look at those and say, righto, it may be hard in a losing side (to earn votes). However as a key defender and the ball being down there, his contested mark has got to be noticed, doesn't it? So from that perspective he's given himself every chance.''
Collins, 24, finished the season with 195 marks from 18 matches. Sixty-four were contested. He was named in Werribee's best 14 times, and will win the best and fairest by so far that binoculars will be needed to sight the runner-up. He will almost certainly be given a second chance at AFL level.
"He's too good for the VFL, I believe,'' Balloch said. "He should be and hopefully will be given an opportunity in the AFL next year.''
Seagulls Michael Gibbons and Lachie George.
The same can be said about another leading Liston contender, Williamstown rover Michael Gibbons.
AFL premiership coach Paul Roos fixed a spotlight on Gibbons two weeks ago and in his two matches since the right-footer has been best-afield.
Gibbons is a proven votegetter, having won the 2016 Liston and finished runner-up last year, and he will go into this year's count with big numbers behind him: 509 possessions from his 18 games (an equal league-high), and No 1 in the VFL for clearances and inside 50s.
Willy assistant coach Peter Banfield is a big Gibbons fan and believes he'll give the Liston a shake.
"He's had an outstanding year, tremendously consistent in terms of his ball-winning, creative,'' he said. "He'd have to be a big chance.''
Banfield noted that Brett Bewley had also had a mighty season — he finished fourth on the disposal count with 471 from his 18 games — and wondered if they would take votes from each other.
Gibbons is also a candidate to win the newly badged Fothergill-Round-Mitchell Medal as the best player 23 years and under.
The west will have a strong hand in the Liston. Aside from Collins of Werribee and Gibbons and Bewley of Willy, Footscray Bulldog Will Hayes had a superb season — and if the talk is right the Doggies will reward him with a rookie listing.
Hayes, neat and nippy, was fifth on the VFL disposal count.
Tiger Anthony Miles battles it out with Willy's Brayden Monk.
Another previous winner, 2015 recipient Nick Rippon, crossed to North Melbourne this year and featured in the best players in 15 of his 17 matches for a side that went 8-10.
Richmond's Anthony Miles was among last year's Liston favourites, but another Tiger, Jacob Townsend, topped the leaderboard.
Miles rounded out the top five with 13 votes and it's easy to imagine him finishing higher this year. Like Collins, his level is above the VFL.
If not for a suspension, Box Hill captain Andrew Moore would have been considered a fancy after his consistent season for the Hawks, where he shared standout billing with James Cousins and David Mirra.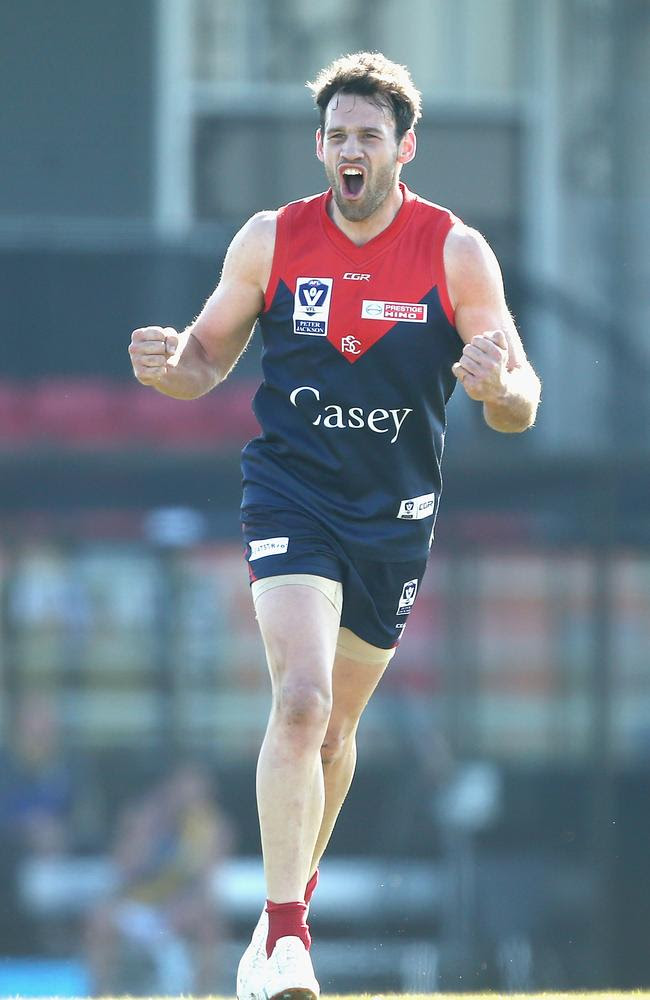 Cameron Pedersen of Casey Demons.
Cameron Pedersen can be expected to poll well for the Casey Demons. The Melbourne man had 15 matches, was named in the best nine times and influenced games in a way few other players do in the VFL. Jay Lockhart and Corey Wagner, both mature-age draft prospects, should feature too.
Ace defender Marty Hore appeals as Collingwood's best Liston chance. But don't be surprised to see former winner Alex Woodward rattle up some votes in the seven matches he played after making his return from another knee reconstruction late in the season.
Captain Aaron Heppell, the dashing Nick Hind and ball magnet Dylan Clarke are likely to corner the most votes for Essendon, and Geelong skipper Tom Atkins will have his admirers based on 13 appearances in the list of best players.
Atkins deserves a medal for laying 172 tackles this season.
MORE VFL NEWS
BOX HILL HAWKS EDGE BOROUGH IN CLASSIC FINAL
Port Melbourne midfielders Mack Rivett, Tom O'Sullivan, Eli Templeton and Shannen Lange will get some nods from the umpires. Ditto for Izzy Conway, who was among the Liston favourites before he went down with a knee injury in Round 15.
Former AFL pair Josh Hill and Sam Fisher and captain Tom Wilson (Northern Blues), Brede Seccull (Sandringham), Marcus Lentini (Coburg) and Will Fordham (Frankston) appeal as their club's best contenders.
SELECTIONS
Paul Amy (Leader):
1 Sam Collins,
2 Michael Gibbons,
3 Anthony Miles.
Luke D'Anello (Leader):
1 Michael Gibbons,
2 Sam Collins,
3 Will Hayes
Toby Prime (Leader):
1 Anthony Miles,
2 Michael Gibbons,
3 Andrew Moore
Tim Michell (Leader):
tie between Anthony Miles and Michael Gibbons.
Roughie: Tom Atkins.
Brendan "Jonty'' Rhodes (Casey Radio):
1 Michael Gibbons,
2 Anthony Miles,
3 Tom Atkins
Brad David (3WBC):
tie between Mi