VFL 2018: Isaac Conway ruptures ACL just two weeks after sister Sophie suffers the same injury
From the Port Phillip Leader
Reported by Paul Amy
TWO weeks ago Isaac "Izzy'' Conway was consoling his sister Sophie after she suffered an ACL injury while training with Richmond's VFL Women's team.
She was to make her debut for the Tigers the following day.
Now the 19-year-old Brisbane player must sit out the 2019 AFL W season.
ISAAC CONWAY DEDICATES SEASON TO LATE MOTHER
Last Sunday the fickle finger of fortune dealt the Conways another blow when powerful Port Melbourne onballer Izzy sustained the same knee injury, cutting short what was shaping as a best-and-fairest year for the Borough.
Conway hobbled off the ground in the second quarter against Box Hill Hawks at the City Oval. Scans the following day confirmed he had ruptured the ACL in his left knee.
Sophie Conway dishes off a handball. Picture: Hamish Blair/AAP
"Yeah, it's bizarre how it happened to Sophie, then me two weeks later,'' Conway, a former Brisbane Lions rookie, said this morning.
"Just one of those things, unfortunately. It's funny how the world works. We'll be on this journey together.''
Conway said his left knee "buckled underneath me'' and "I knew straight away I was in trouble''.
"I heard that 'pop' and it was a weird feeling,'' he said.
"Sophie said exactly the same thing. When she did her knee there was a pop and that weird feeling.''
Conway sent a text to his sister straight after the game. "She was heartbroken when I told her,'' he said.
Extending the twist, their older brother Ben, an umpire in the Essendon District league, twice ruptured his ACL while playing football in Brisbane.
Conway, 23, was dedicating his season to his mother, Christine, who died last year after a battle with breast and brain cancer.
And he was doing it brilliantly: going into Round 15 he had gained nine mentions in the best players, was second in the competition for tackles and fourth for clearances and hard-ball gets.
Conway is visiting a surgeon this afternoon.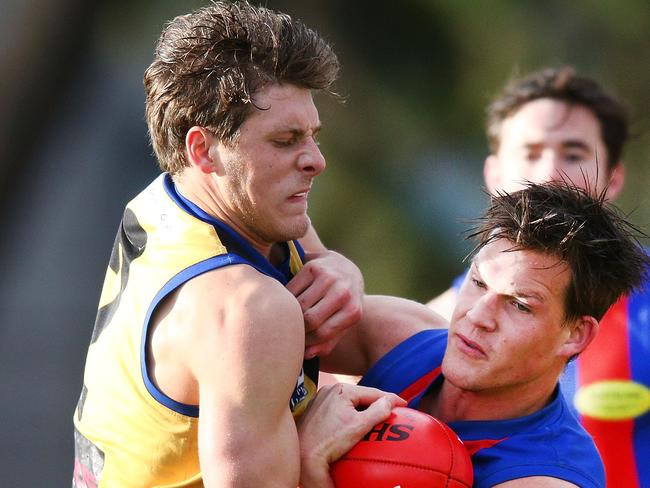 Kade Answerth tangles with Isaac Conway. Picture: Michael Dodge/AFL Media/Getty Images
"As soon as it (operation) is done it's time to get to work, put the hard yards in and make sure I can get back close to Round 1 next year,'' he said.
His injury followed that of young ruckman Kieran Strachan, who damaged his ankle in Round 14 and won't play again this season.
Port Melbourne coach Gary Ayres said it was a "huge blow'' to lose Conway, who joined the Borough last year from Werribee.
"When you look at what he's been able to achieve this season you'd have to say he's one player we've been able to rely on week in, week out,'' he said.
"All we can do is support him through what is a difficult time.''
Port hosts Coburg on Saturday and the match committee will consider calling up premiership defender Damian Mascitti (finger) for his first match of the season.
Dillon Viojo-Rainbow, Anthony Anastasio, Callum Searle and Lachlan Waddell will also come into contention.